Confident kids rule their future
Do you admire confident people? Most of us are attracted to confident men and women. They believe in themselves, strive for their goals and make a difference in the world.
So how do we encourage our children to believe in themselves, to have the strength to determine their own path?
The best way, as with most things, is to lead by example. To demonstrate these behaviors to our children by what we say and do. Not always easy. As parents, we need to work and our kids go to school. The evenings are packed out with meal times, homework and play time.
How can we develop self confidence in kids?
We believe that storytelling is one of the most effective ways to demonstrate new attitudes and behaviors. Even complicated concepts such as 'Listening Skills' can be simplified in a story.
The power of storytelling:
Stories speak directly to your child with authority
The ideas in books are communicated at their own reading pace
Parental input is not essential - they can read and learn while you deal with daily life!
Reading helps them develop imagination and expands their vocabulary

Kids quickly learn to love reading. So if they're going to read, then why not have them read books which teach valuable life skills?

Teaching self confidence in kids
To learn a new attitude or behavior we need to see it in action. We then need to witness the benefits and rewards of the new behavior. We can then act out that behavior in real life. That is the approach we have taken in 'Magic Mouse'.
Imagine, for a moment, that you are a small, insignificant little mouse. In fact you are the smallest and youngest mouse in a very large family of mice. Everyone pushs you around. Out of your huge family, only your sister is on your side. One day you escape being eaten by a hungry cat and dream that you have magic powers. You dream of becoming a magician. Every day you work at your magic and every day you are told to stop being silly and act like a normal mouse. But you stick at it and the time comes when your skill and perseverence saves the whole family from disaster.
As a parent of 2 young children, I love to see them gain confidence and show that they believe in their own abilities. I hope your kids experience the joy of self confidence as they grow from Human Bean to Human Being.
Thank you!

David Machin
Author of 'The Star Dragon'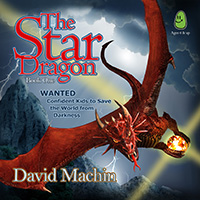 The fully illustrated 8.5"x8.5" color book on Amazon - $10.94 Only $5.60
(a great gift for any child)
Illustrated eBook on Kindle - $2.99
NEW! Give your child a great start in life with this illustrated book which teaches 4 key Life Skills. Teamwork, Goal Setting, Planning for the Future & Self Development for kids

This book of short stories contains; Timmy Tuna, Magic Mouse and Elli The Ant, plus, the previously unpublished story about Self Development 'Pip and the Big Apple'.

Together, these four stories will give your child a great introduction to essential Life Skills which will help them succeed at school and in their daily lives.

Bonus content: This book contains links to free additional learning resources such as Powerpoint presentations which support the learning (great for home or class) and audio readings of the stories for long journeys or children with visual impairment.