Stories which teach children the attitudes and behaviors for success and happiness in life
.
Help your children develop into strong, successful human beings.
NEW! Give your child a great start in life with this illustrated book which teaches 4 key Life Skills. Teamwork, Goal Setting, Planning for the Future & Self Development for kids

This book of short stories contains; Timmy Tuna, Magic Mouse and Elli The Ant, plus, the previously unpublished story about Self Development 'Pip and the Big Apple'.

Together, these four stories will give your child a great introduction to essential Life Skills which will help them succeed at school and in their daily lives.

Bonus content: This book contains links to free additional learning resources such as Powerpoint presentations which support the learning (great for home or class) and audio readings of the stories for long journeys or children with visual impairment.
We help Parents of children aged 6-11 teach their kids the attitudes and behaviors of success. These life skills help them become more confident in their abilities, have higher self esteem and help them develop their social skills to make more friends.
These skills, which are not normally taught at school, can ensure that your child will lead a happy, balanced and successful life. As parents and carers we have to deal with issues of doubt and uncertainty around our kids education and worry that they are learning the right things from TV, the Internet, School and the playground.
There is little we can do to filter this constant flow of information and some of it could be harmful to young minds. We feel that the best 'filter' is the one we help them build for themselves, in their own mind. If we can help them be mentally strong and confident, they will have the capability to deal with new challenges and make better decisions.
What are we offering?
As Parents we often do not have the time to teach our kids at home. So, at HumanBean we write stories which speak directly to your child, without the need for adult intervention.
Confidence and determination
Self confidence is a learned behavior. It comes from understanding that it is OK to have big dreams and that you can achieve them if you stick at it. The secret to self confidence is building on each and every success until you develop the belief that you can achieve your dreams by the power of your own actions. In our free ebook, 'Elli the Ant', the young reader will discover that he or she can achieve their dreams and the results are worth waiting for!
Social skills and making friends
When kids start at school or move to a new school it can be a daunting experience. Many kids find it hard to make new friends or make new friends when their existing friends move away. Teamwork is an excellent tool to help children make friends and learn how to socialise with other children. In our free ebook, 'Timmy Tuna', the reader is introduced to the idea that we can do more when we work together with others and that achieving success in a team is a great way to make and keep good friends.
Self-esteem and self-belief
A belief in yourself is vital for your well-being. For children, it is a core skill which can carry them through difficult situations and build inner strength. A child with self-esteem and self-belief is far more likely to resist potentially damaging outside influences, it builds the foundations for a strong moral compass and enables them to make better decisions as the grow up. In our free ebook 'Magic Mouse', they will learn that you should stick to your dreams to achieve your goals and that every small success makes you stronger.
Resources for kids
You can use our childhood development resources to directly influence your child's success in life. These stories, are designed to build self-esteem and confidence in kids without too much input from parents or teachers. We understand how much time pressure parents are under. That's why we have designed these resources to be standalone developmental tools which you just provide to your children. It does, of course, work better if to discuss these ideas with your child afterwards.

Within these books your child will find examples of all the key behaviours of successful human beings modelled by the characters in the story.
These behaviours are proven to work for people in every walk of life and are based on the teaching of the world's top life and business coaches – we have simply distilled and simplified the learning into fun and entertaining stories.
We have a line of exciting and stimulating books and games in development at the moment. Sign up to our newsletter and you'll be the first to access these materials as they become available.
Thank you!

David Machin
Author of 'The Star Dragon'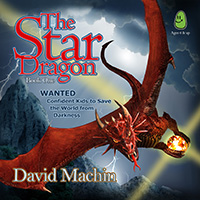 The fully illustrated 8.5"x8.5" color book on Amazon - $10.94 Only $9.34
(a great gift for any child) Illustrated eBook on Kindle - $3.29